The Finished Candy Hex!
The Finished Candy Hex!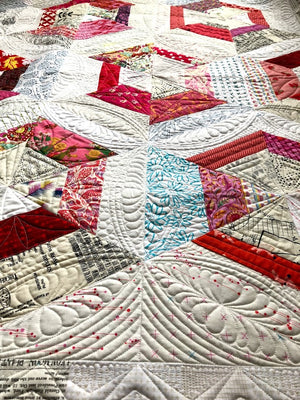 A few months ago, I had an idea for a simple quilt to use up some scraps while playing with my 60 degree triangle ruler from creative grids. It was a ton of fun and I even wrote my very first free pattern/tutorial for the quilt!
My favorite part of using the low volumes at the base of each triangle was this negative space created between the rings of red.  I knew I wanted to highlight that with a secondary pattern and since feathers are my jam recently, I had to fit them in! I chose a different small filler for the negative space between the feather football and the red rings.
Deciding on the pattern for the rings was tricky since each slice was a different with.  I kept it simple with these areas—straight lines and a few curved rulers.
Since there were several patterns in the rings, I kept it simple in the center with a dot to dot triangle.  I varied the number of triangles based on the size of the space and I love how they create a startburst affect on the back of the quilt.
Finally, I chose this fun geometric border and filled it with more of my favorite fillers!  I could quilt those little figure 8 wishbones forever!
I love this quilt!  It just needs a label and then it will be all ready to snuggle under!  I used a silk blend batting so even with all that quilting, it is still nice and squishable.  As much as I love the fun piecing on the front, the back might steal my heart  I used a simple ash gray backing from Kona and it really shows off all that stitching.
Want something like this for your quilt top?  Contact me to get started!  I would love to quilt for you!