That 70's Quilt!
That 70's Quilt!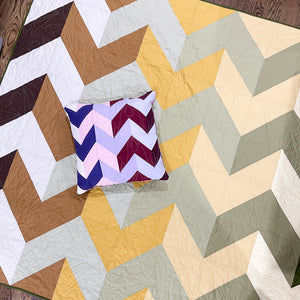 Pattern: That 70's Quilt
Size: 64 x 80"
Fabrics: Kona Cotton in:
Backing: Paper Airplanes from On the Lighter Side from Robert Kaufman.  This fabric doesn't seem to be widely available any longer.
Batting: Warm & White by the Warm Company
Quilting Design: Paper Airplanes
Binding: Kona Avocado (2 1/4" strips)
This was a birthday gift for my Dad!  I wanted to recreate the feeling of this old crocheted ripple afghan we had when I was a kid.  I chose some updated versions of my favorite 70's colors of gold and celery green.  I selected shades that would create an ombre from light to dark across 5-6 shades. 
I noticed some of my pen marks coming through as I was quilting this quilt. I wasn't careful to use a frixion pen since I was just marking cutting lines. Pretty disappointing and a lesson learned :( 
I don't know if I will ever use this pantograph again but it was just so perfect!
That mitered corner sure did turn out pretty, didn't it??
I did have an accident with this quilt while I was making it and sliced a bit of a hole in the backing.  It was in an awkward place but I put a label over it anyway, because thats what labels are for sometimes!

Quilt Finish #4 of 2021