Jelly Roll Jog—Betty's Luncheonette
Jelly Roll Jog—Betty's Luncheonette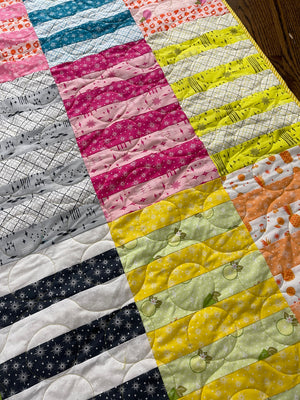 Quilt Pattern: Jelly Roll Jog
Fabric Used: Betty's Luncheonette by Violet Craft. 
Batting: Hobb's Tuscany Silk
Quilting Thread:  Glide in Split Pea on the top with So Fine 50 wt in the bobbin.
Quilting Pattern: Pebble Chain Edge to Edge
Backing Fabric: Blueberry Park 108" 
Binding Fabric: Candy Stripe in Sunflower straight grain binding cut at 2 1/4"
I made this top about a year ago for a video and it has sat unfinished since--right next to its sister version that I made with solids! This quilt was just too cheerful to sit any longer, so I put it on the machine to get finished!
I nearly used a neutral thread on this quilt since there are so many colors in the top.  I debated a light gray, white, and then threw this split pea color on there and knew right away I was going to go with it.  I didn't have an exact match in So Fine 50 wt for the bobbin, so I went with a deep golden yellow.
I used one of my own designs to quilt this quilt--a first for me!  I used Pebble Chain which stitches out nice and fast--especially in a large format like I chose for this quilt.  
Binding was a little tricky for this quilt and I ended up selected a yellow diagonal stripe fabric.  Stripes are always winners and this sunny yellow went well with the bright colors of the top even though there isn't an overwhelming amount of yellow in the top.  
Emma would not leave me alone while trying to get photos of this quilt...so...Emma the wonder dog for scale!
Its been a year since I made this pattern and I'm really itching to do it again since its a quick sew and a great use of a jelly roll!
Quilt Finish #5 of 2021