The Charlie Quilt!
The Charlie Quilt!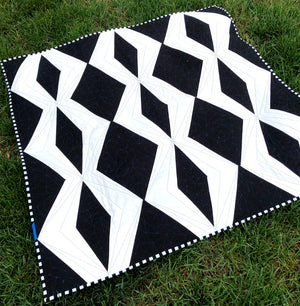 Its pattern release day!  So exciting!  Say Hello to the Charlie Quilt!
This one has been in the works for a while and it has been so hard to not share it with you until now!   I loved sewing up this quilt as it was right in my fun quilting wheelhouse: layer cake squares, simple cutting, and big blocks.  I made the first version using a layer cake of Tula Pink's Zuma with an eye-searingly bright Kona Chartreuse background.
I loved it but made another version after I refined the cutting instructions to help those pesky points come together more easily.  I still love this version though and can't wait to quilt it up.
I chose stark black and white for my second version.  I love a two color quilt and since this quilt is so adaptable to yardage, I wanted to show how it looked with high contrast colors.  I wanted to have some fun with the quilting on this one version and ended up choosing Metallic Thread from Superior Threads in a royal blue.
Straight line dot to dot quilting in the white/layer cake portion of the quilt and a fun crackle texture in the black/background diamonds.  I made a quick video of the quilting on this area on my youtube channel. 
I bound it in stripes and added my favorite touch in the binding--a little contrast splotch.  
Want to make your own?  The pattern is available for instant download right here.
I have several more patterns coming out in the new few weeks!  I'll be sharing more behind the scenes/quilting photos of the next quilt--a modern floral quilt named Flora!  Check out my instagram @meganmme for more!