Drew's Rainbow Jelly Roll Jog
Drew's Rainbow Jelly Roll Jog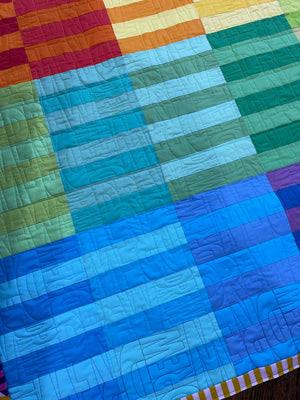 Quilt Pattern: Jelly Roll Jog
Size: 48x64
Modifications: none!
Fabric Used: Rainbow Jelly Roll of Kona Solids
Batting: Warm & White
Quilting Thread: various colors of Glide on top, so fine 50wt in the bobbin
Quilting Pattern: Drew
Backing Fabric: a flannel sheet! It had rainbows on it and I could no resist!
Binding Fabric: Tula Pink Tent Stripes—various colors
Made For: Drew!


The quit top itself was a sample for a video I did what seems like ages ago--A fun way to use up a jelly roll--and ONLY a jelly roll.  Its a quick easy pattern and I ended up making two, including this solids rainbow version.
It sat unquilted for about a year.  I debated handquilting it but never got around to doing the basting part of the process.  Then, early this year, I started designing digital quilting designs and I just knew that a Drew design had to happen.
Drew is my son and my biggest fan. He loves quilts--really loves them.  He sleeps with at least 4-5 on his bed at all times and has declared himself the "Chief Fabric Officer" of my business and says part of his job is the "first snuggle" for all quilts.  Making him a customized design was inevitable!
Drew also loves rainbows, so once the design was done, I dug out this old rainbow top and it was like the two were meant to be together!
I used a fun striped binding and a thin flannel sheet with rainbows on it as the backing fabric.  I've really come around to sheets as backing this past year.  I've used regular cotton sheets, microfiber sheets, and flannel sheets all with great success.  The patterns are pretty limited and often have a lot of white on them but, other than that, I haven't found a downside.  They are cost effective and, for my top-sheet hating children, I can use the bottom sheet for beds and the top for a backing!  win-win!
I changed threads with every row while quilting to keep up with the rainbow theme and it was well worth the extra few minutes of time.
As soon as I was done binding the quilt, Drew whisked it away and I haven't seen it since!  I'll steal it back some day while he is at camp this summer and take some proper photos but, until then, I'm completely happy that it is just being loved.